Congratulations to our Student of the Month for October!!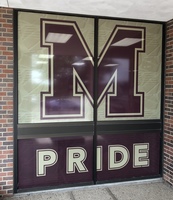 We have added a lot of school spirit to our facilities this summer! Be sure to notice the Pride window film near the MHS entrance!
At the High School/Middle School building, there are two PC computer labs and a Mac lab. Every classroom has a full classroom set of Chromebooks to utilize all day in grades 7-12. Our classrooms are transitioning to be able to complete all homework online either at school or at home. Many of our teachers have also put their classroom material online ...